PROJECT PARTNERSHIP SEARCH
MKS has been seeking partnership in its own proposals and/or proposals prepared by others.
Telerehabilitation of patients after lower limb amputation or stroke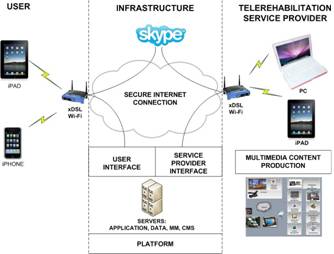 An innovative approach for the implementation of individual programs of telerehabilitation at a patient's home will be introduced, including remote support and monitoring using desktop videoconference. Multimedia content composed of various exercises and activities will be recorded. Individualised multimedia rehabilitation content will be available on-line to the patients using tablet PCs (Apple iPad). Every patient will be treated by a therapist/specialist remotely on a weekly basis using a video call (Skype) on the iPad. During the virtual visit the patient will be assessed remotely; he/she will demonstrate the activities and will be corrected if needed, also by additional instructions. The service will be introduced at the Ljubljana Rehab Institute for patients waiting for a "standard" rehabilitation at the Rehab Institute after an amputation as

a

intensive preparation programme.
Efficient communications for independent living of elderly people in domestic environment by using ICT based communication service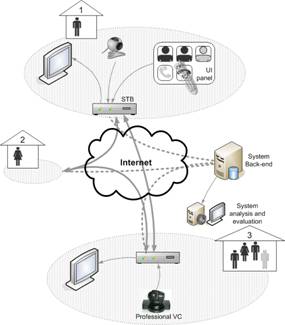 The proposed project will develop supportive ICT environment that will empower already existing groups of elderly, volunteers and carers. The project aims at providing a service that would enable multi-point communication through video-conferences on home IPTVs. This way tele-presence at meetings or virtual meetings will be possible. The service will facilitate and augment communication and so empower the elderly people (primary users), the volunteers and family carers (secondary users) in their interaction.
Within the proposed project a communication service model will be developed, piloted and validated and promoted in 4 countries involving 125 users. The service will be based on already available ICT solutions upgraded with major technological enhancements in user interfaces to video-conferencing that would be simple for all elderly people. Data on user and system events will be collected for later analysis of social interactions. It is expected that data analysis will bring an innovative knowledge on how to discover communication pathways in order to improve the model and the communication within such and similar social networks aiming at designing also a business model. The project is demand driven and deploys and upgrades some available solutions to offer a new service to the already existing user groups.
After the project end the proposed service will be available to other groups as well that want to boost communication and enable tele-presence to their members e.g. NGOs, faith groups, fan clubs... This way the grow of new social networks will be facilitated.